When you are deciding to choose a bedroom colour it becomes confusing to pick colour schemes from multiple options. Before talking about quick decisions and regret later, here are the best colors for bedroom walls.
Either you like bold or light colour you should know which type of color is good for you. Maybe if you want a comfort and soothing bedroom design then cream color can be a great choice. Here you will be guided to make a perfect paint choice, so it can't irritate your mood or eyes.
15 Bedroom Paint Colours can Make you Fall In Love
1.  Creamy
Cream color creates comfortable and fresh environment in your room. To make more out of this color you can light wood furniture and flooring. 
2. Light Gray
If bright white color irritates your eyes then this pale of gray is a good option to go. It is more likely to give a neutral tone to your room.
3. Ice Blue
If you are a fan of blue colour then its soft tone will make your look fresh. Its versatile quality can be great for plant lovers.
4. Tan Color
Tan is a pale tone of brown, it can be the perfect option to balance your bedroom to brown furniture. It can also work great if you have a wooden floor.
5. Bright with White
White color is not what you thin. It can do miracles inside a room if you use it in wise manner. In your white bedroom add some green plants, wooden tone furniture and white curtain then you will see its beauty.
Later on, you can add colour to room with the help of colourful decor and art pieces.
6. Blush Pink Tone
This shade of pine can give feminine touch to your bedroom wall.  To make the room more chic, you can add white color pieces or decor items.
7. Misty Shade of Gray
Misty shade is lighter to the pale gray and very much close to white color. This colour still looks bright and while allows white color to add pop.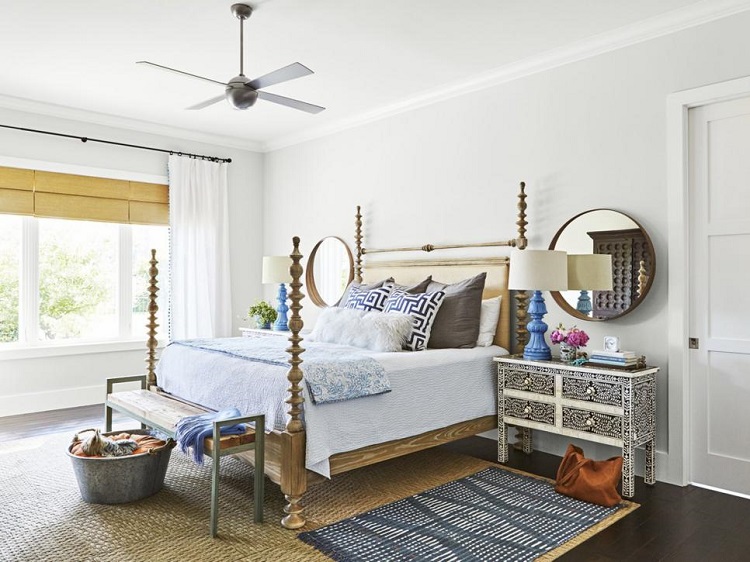 8. Purple
A purple colour wall make your room vibrant and appealing. It is the great choice for couples who wants to create romantic bedroom.
9. Mix Shade Green and Blue
It is a very rich colour made up of shades of blue and green which is enough to make your bedroom warm. When you pair this colour with white on the wall and add some golden colour art or decor pieces in the room to make space more adorable.
You can take help interior designers in Hyderabad so they can guide you through this process.
10. Shade of Violet
If you don't want to overpower and darker your bedroom, this violet shade can be a great choice. You can also paint the entire bedroom with violet or a couple of other tone of this color.
11.  Cranberry Red
This is bold and also make your room elegant if you paint one wall of with this colour. It is good choice to paint your back bedroom wall cranberry red and other three with light colour.
12. Dark Grey
It is the warm tone of dark grey and very popular among the modern house owners.
13. Rose Pink
Give feminine touch to your bedroom with rose pink color. It will make the room more comfortable and copper warm.
14. Light yellow
It is a soothing shade of light yellow colour. One of the best choice for those who are looking something similar to white color.  You should also take care window treatments to make the room more charming.
15. Light Purple
Light shade of purple colour creates a calming environment inside a bedroom. After decorating bedroom with matching pieces it can look more inviting.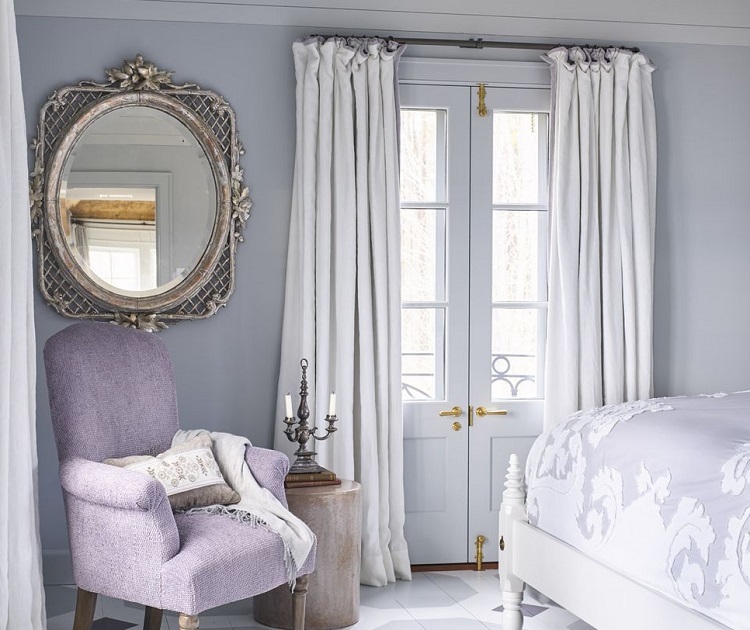 These are some bedroom colour ideas to pick for a modern home. Which one you will going to use in your bedroom? Tell us in the comment section.